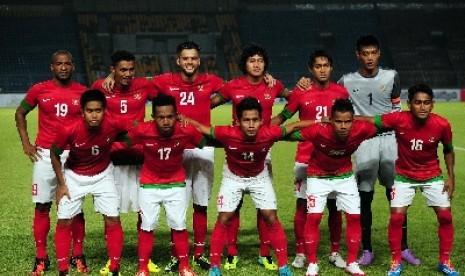 Foto : Republika/Edwin Dwi Putranto
REPUBLIKA.CO.ID, JAKARTA -- The Indonesian national soccer team U-23 won the MNC tournament after collecting nine points of three matches which took place at the Bung Karno main sports stadium here.
The U-23 national soccer team on Sunday night defeated Maldives 2-1 after crushing Papua New Guinea (PNG) team 6-0 (2-0) and beat Laos 3-0 in the tournament that applied the round robin system.
The MNC Cup 2013 was participated in by four teams, Indonesia, Laos, Maldives, and PNG.
By winning the tournament, the national team earned money prize worth US$50 thousand, the runner-up Laos received US$25 thousand, Maldives got US$15 thousand and Papua New Guinea only received US$10 thousand.
The U-23 national soccer team which is prepared for the upcoming SEA Games 2013 in Myanmar in December will be in group B with Thailand, Timor Leste, Cambodia and the host Myanmar.
Redaktur : Julkifli Marbun
Sumber : Antara